Meet Our Directors:
Kat & Jason
Kamaji is a true "mom and pop" business. Jason and Kat work together all year long to create a place where our campers feel happy, supported, encouraged and an extension of our own family.
Hello! We are Kat (Martin) and Jason Nelson, and together we direct Camp Kamaji for Girls.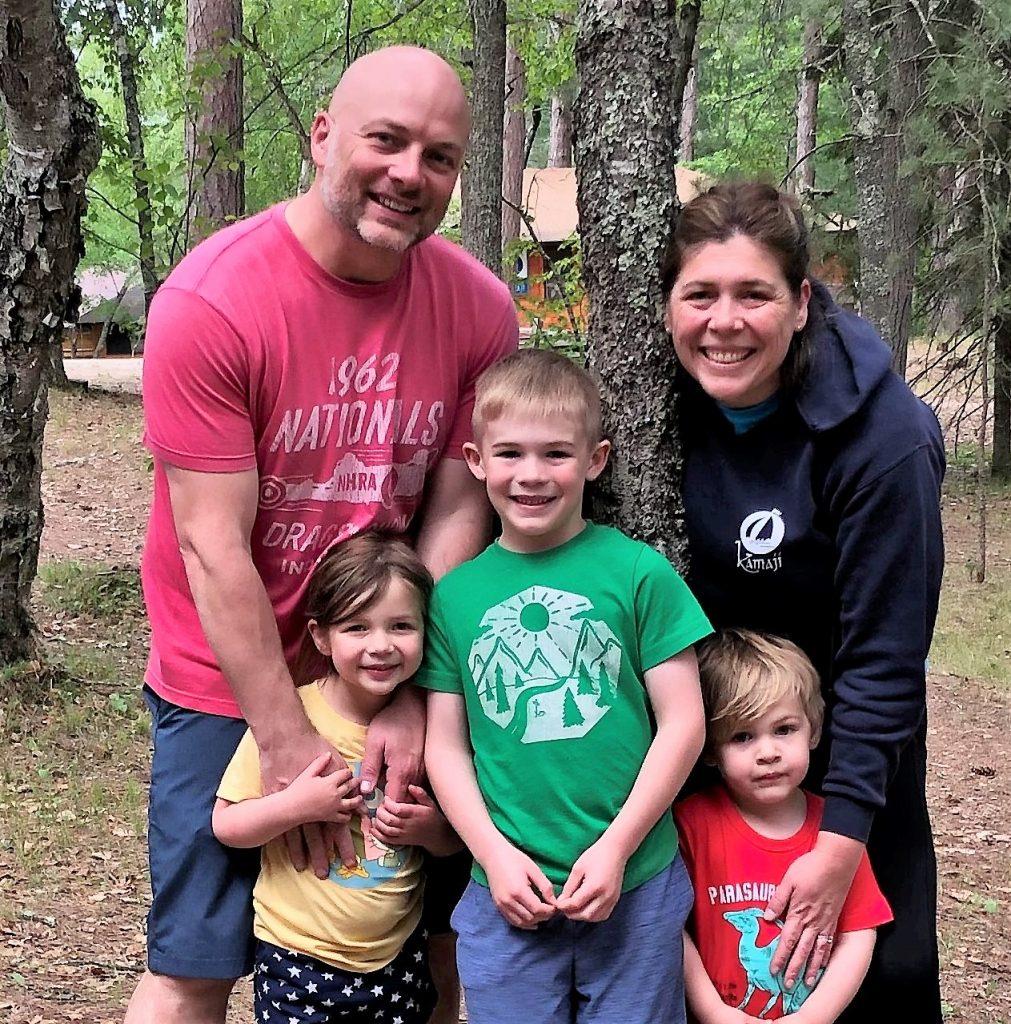 It is wild for me to say that I (Kat) am the co-director/co-owner of Kamaji. I grew up at Kamaji as a camper and then went on to work as a cabin counselor and waterski instructor before I worked on the Leadership Team as a Unit Director.
After I graduated from the University of Wisconsin-Madison in 2004 I began working year-round as Kamaji's Associate Director. I spent my days recruiting campers and hiring the summertime staff.
As the years went on I realized that I would LOVE to one day become the owner and director of Kamaji, but was not something I wanted to do on my own…cue Jason.
Jason and I met and fell in love in 2011 and luckily, he didn't just love me but also Kamaji! Jason grew up in the wild outdoors of Michigan and received his finance degree from Western Michigan University.
After working in Chicago for over ten years on the finance side of commercial real estate and operations management, he realized how much he was missing the outdoors.
It was a perfect fit! Jason could lose the suit-and-tie and take over the operations side of Kamaji while I could concentrate on what I love the most, the people, and that is what we have been doing together since 2013.
We live and work out of our home in the Chicago-area where we also spend our time chasing around our dog, Myles, and our three children: Caleb, Felicity, and Ethan.  When not working on "camp stuff" or hanging with our kids, I am the Board President of my children's school and Jason volunteers as coach of Caleb's soccer and baseball teams!
Jason and I are committed to making sure Kamaji is a place where the campers come first so that each person has the opportunity to have fun, develop new skills (whether it is an activity skill or a life skill!), make connections with new people and make lifelong memories within a safe and healthy environment.
This is quite literally a "mom and pop" business so if you'd like to learn more, please do not hesitate to get in touch so we can tell you more about this special camp!
With hugs and high-fives,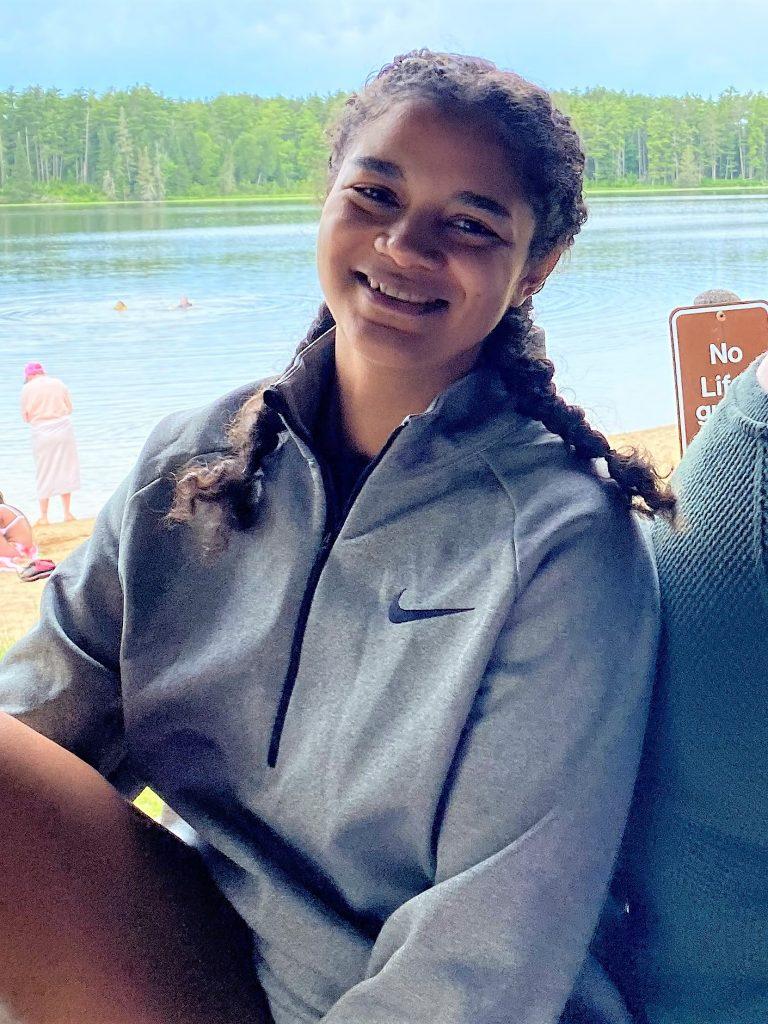 Bri Humphries
Operations Director
Bri first joined the Camp Kamaji staff seasonally in 2014 and transitioned to our year-round team in 2016. Over the years she has filled the roles of Office Assistant, Office Manager, Marketing Manager, Leadership Training Director, and has helped run the kitchen a time or two. She currently works as the Operations Director and dedicates most of her off-season recruiting and hiring our summer staff.
At Kamaji, Bri has been able to further explore and share her passion for leadership and skill development while working to create a memorable experience for the Kamaji staff. Bri is the one "behind the scenes" who helps keep everything running smoothly!
Bri is originally from Indiana and graduated from Franklin College with a degree in Political Science with a Leadership minor. She currently lives in the northwest suburbs of Chicago and enjoys traveling to see family and friends, spending time in the kitchen trying new recipes, and impatiently waiting for March Madness to roll around each year to cheer on the Hoosiers!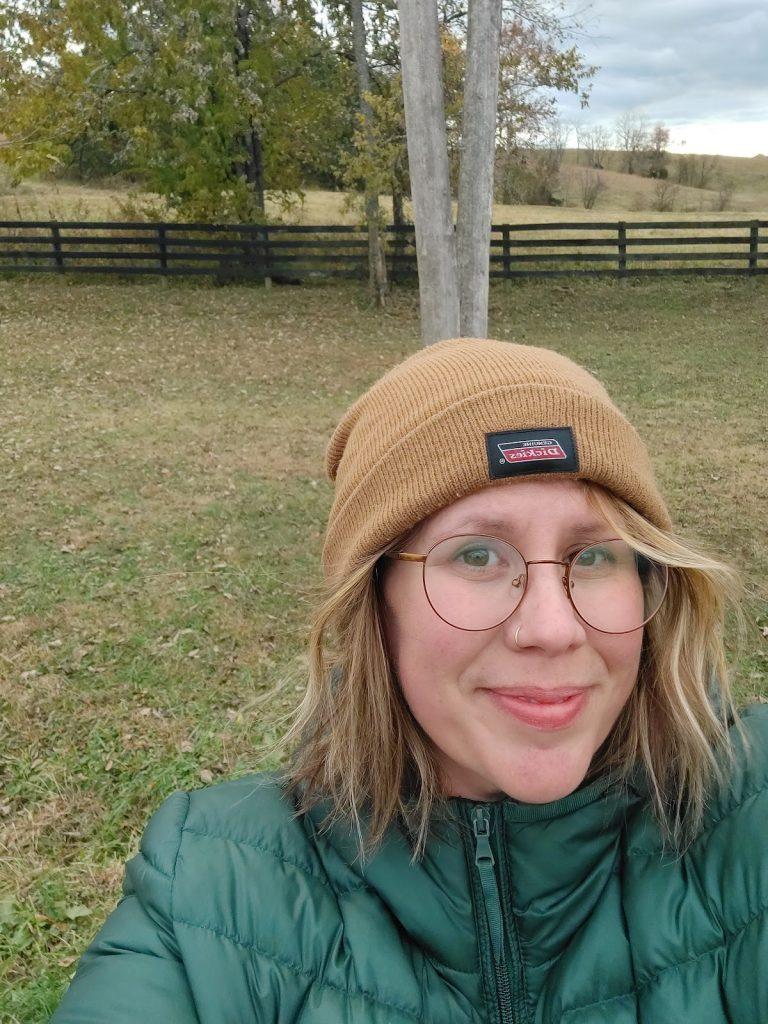 Shannon Kettenring
Program Director
Shannon's first summer at Kamaji was as a Cabin Counselor and Arts Village Instructor in 2001 (when she and Kat first met!!). Shannon returned to work on the Leadership Staff before taking a few years away when she returned as Arts Village Director in 2016. In 2018 Shannon became the Program Director. During the summer Shannon oversees all the instructional activities, supports the instructors, and helps ensure campers receive the activities they want to take each week!
She also has the privilege of being a camp mom, daughters Amelia and Eliza started as Kamaji campers in 2015 and 2016 (respectively) and son, Ollie, has been exploring the woods with the Nelson kids since 2016.
When not at camp, Shannon works at an alternative high school program for teenage girls in Lexington, KY. She loves to read, hike, bake, and spend time with her kids and husband, Shawn.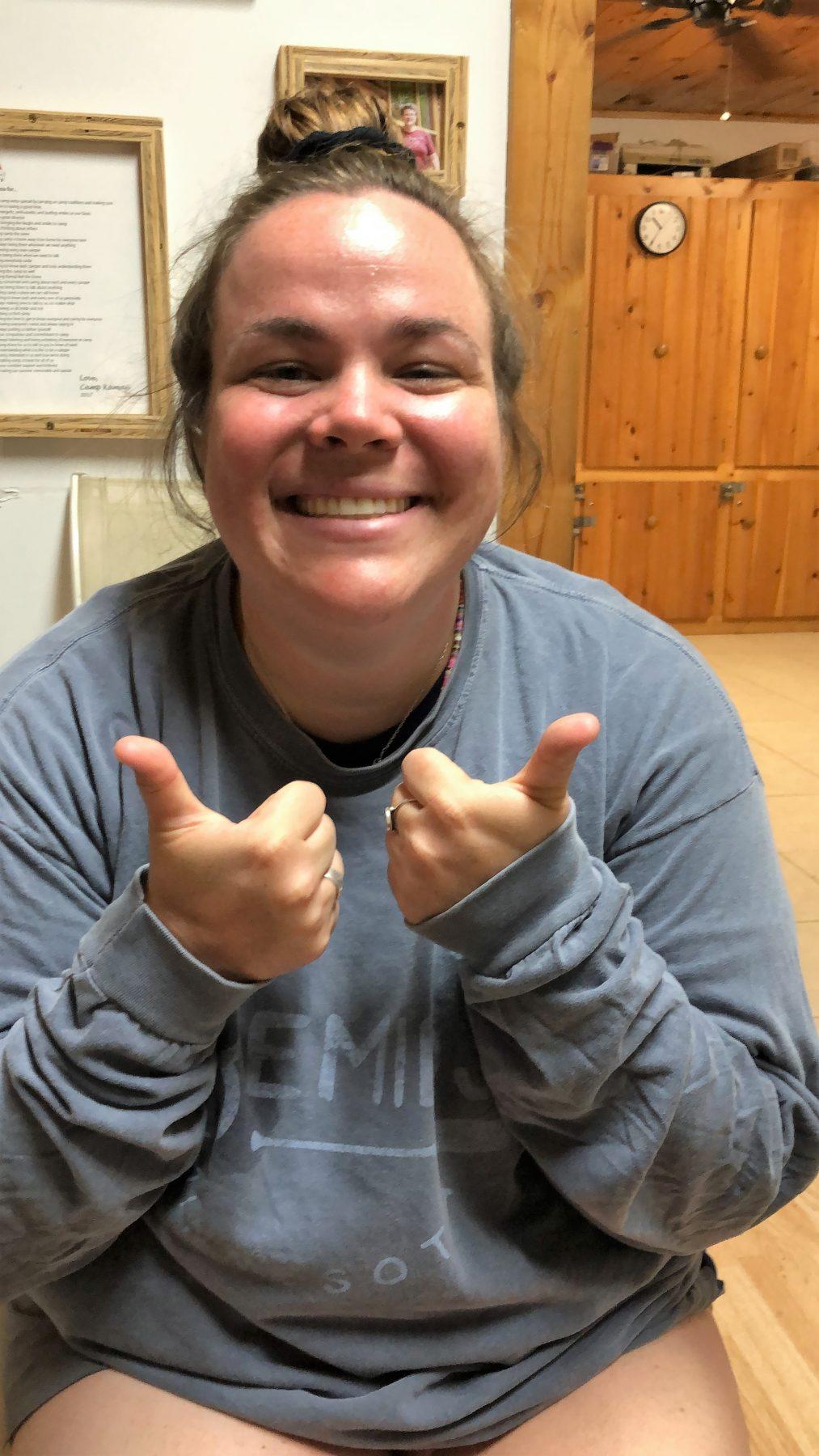 Laney Maguire
Staff Coach and Development Director
Laney grew up attending a traditional summer camp in southern Oklahoma from ages 8-15. She worked at that camp throughout college as a cabin counselor, activity coordinator, and eventually the waterfront director. When she is not at camp, Laney is a high school history teacher in Oklahoma City, OK, where she was born and raised. Laney teaches AP World History and AP Art History. She is also the Karaoke Club and Girl Up Club sponsor. When not at school, Laney loves to spend time with her friends and their various kids and dogs. They lovingly refer to Laney as "Funcle Laney" because fun aunt doesn't really go together very well.
As Laney tells it, "When I started my teaching career, I missed camp dearly. Thankfully though, in 2018, a friend referred me to Kamaji, and I started as a nanny for the Nelson family. I spent three incredible summers running, biking, swimming, and playing with Caleb, Felicity, and Ethan. I fell in love with Kamaji and begged Kat and Jason to expand my role at camp. I am forever grateful that they took a chance on me!" Truth is, Laney's leadership skills, her drive, motivation, and dedication were needed on our Leadership Team so in 2022 Laney started a new role at Kamaji.
Laney is responsible for training and coaching our counseling staff throughout the summer. Laney loves working closely with our counselors because it allows her to see them grow in not only their ability to teach an activity or be a cabin counselor, but also in their self-confidence. Laney shares, "Some of my favorite things about Kamaji are the endless opportunities to try new things, being able to unplug from the craziness of the world, and how empowered I am to be myself. The endless desserts and songs after meals don't hurt either."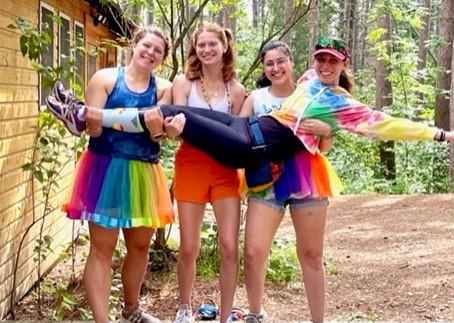 Julie Grant
Heath Care Director
RN, MS, BSN, CNRN, SCRN
Julie holds a Master's degree in Health Education, Bachelor's degrees in Nursing and Psychology and is currently earning her PhD in Nursing at the University of Colorado Anschutz Medical Campus. Julie is also a Doctoral Student Teaching Fellow with CU Anschutz College of Nursing. Throughout her nursing career, Julie has worked in several nurse specialties including Neurology, Cardiology, Interventional Radiology, nurse management, and camp nursing. Prior to nursing, Julie was an Applied Behavioral Analysis Therapist for children on the Autism Spectrum. This will be Julie's 3rd summer as
Kamaji's Health Care Director and 9th summer at Kamaji!
Julie comes from a long line of Kamaji alums and is a former Kamaji camper and counselor herself! Along with being a nurse, Julie is a military spouse and mother to two amazing kids. During the summer, Julie's son escapes to an all-boys camp while her daughter carries on the camper tradition at Kamaji! Julie's husband is an active-duty Marine who does not get to escape to camp in the summer but enjoys camp vicariously through everyone's letters. During the rest of the year, Julie and her family are stationed in Southern California. Julie and her husband love that camp is a familiar place for their kids to return to each summer, even as the military continues to move them every few years.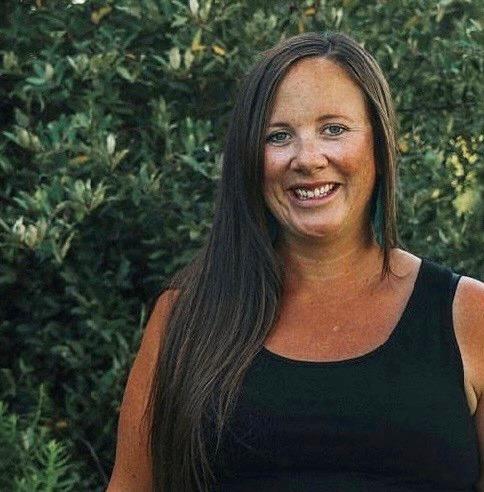 Jen Rabb
Communications Director/Kitchen Manager
Jen has been working with Camp Kamaji since the Fall of 2021 and serves as our Communications Director. She oversees our advertising, marketing, and communication efforts and works hard to make Kamaji look half as fun in print as it really is in person! During the summer of 2023 Jen started as the Kitchen Manager where she assists Jason in overseeing the invaluable Cooks and serving of delicious meals at Kamaji. Jen holds an interpersonal communications degree from Michigan State University (Go Green!) and an MBA with a marketing emphasis from Cornerstone University in Grand Rapids, MI.
When not working on Kamaji projects, Jen can be found enjoying the great outdoors, great food, and great friends (not always in that order) with her husband Brendan, and four young daughters; Amelia (Kami girl!), Hannah (a soon to be Kami girl!), Caroline (a not too far away Kami girl!), and Lucy (a someday a little way away Kami girl!). They reside in beautiful West Michigan but make every effort to spend as much of their summers at Kamaji.