Imagine a summer filled with growth, adventure, and meaningful connections. Sounds incredible, right? That's precisely what families love about Camp Kamaji! Nestled in the great outdoors, this magical place offers an unforgettable experience that fosters personal growth, builds lifelong friendships, and creates a strong sense of community. Are you ready to gift your children the journey of a lifetime? Keep reading to discover the top 13 reasons why families love Camp Kamaji!
Key Takeaways
Grow and explore with Camp Kamaji: form lasting friendships, develop valuable skills, build resilience & create unforgettable memories!
Experience nature immersion in a supportive environment of connection & respect.
Empower yourself through leadership opportunities, skill development activities, and special traditions that will last forever!
A Summer of Growth and Adventure
At Camp Kamaji, summer signifies a time to welcome new experiences and venture beyond your comfort zone. With a selection of more than 20 exhilarating activities, monotony is a stranger here! Campers have endless opportunities to learn new skills and challenge themselves during their summer at Camp Kamaji from sailing and horseback riding to conquering the climbing wall. But that's not all – at the heart of Camp Kamaji's philosophy is the belief in championing courage and fostering personal growth. With every new adventure, campers build resilience, determination, and a strong sense of self.
Under the guidance of Kat and Jason, Kamaji's co-owners and directors, campers gain encouragement to cultivate their unique strengths and tackle challenges without hesitation. The camp's supportive environment allows campers to spend an incredible 648 hours in a four-week session, or 1320 hours in an eight-week session, meeting new people and creating lifelong memories.
1 – Personal Growth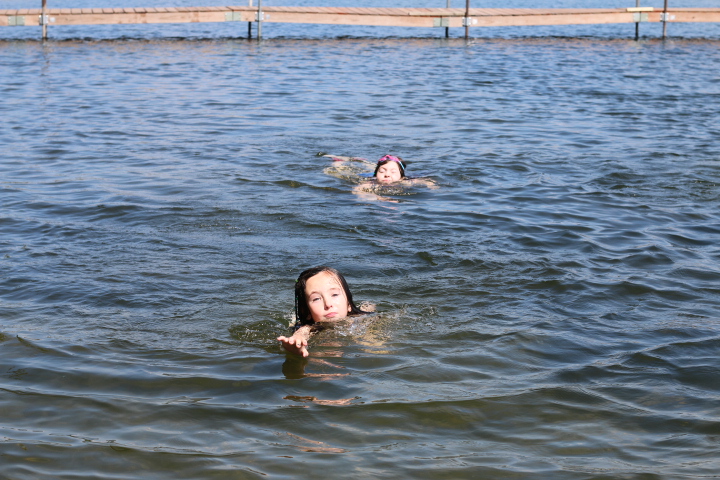 Personal growth is a cornerstone of the Camp Kamaji experience. With activities tailored to each camper's interests and abilities, there's always an opportunity to try something new and develop a wide range of skills. Whether it's stepping up on stage for the first time or conquering a fear of water, Camp Kamaji celebrates every accomplishment with enthusiasm. After all, the goal is for campers to be filled with knowledge on the last day of camp compared to the first day.
The sense of accomplishment and personal growth doesn't end with the activities. Campers also develop valuable life skills, such as problem-solving, compromise, and empathy. By exploring new activities and conquering obstacles, campers at Kamaji are rewarded for their bravery and grow in ways they never thought possible.
2 – New Friendships
Forming new friendships is an essential part of the Camp Kamaji experience. With campers from different backgrounds and interests, there's no shortage of opportunities to connect with like-minded individuals and create lasting relationships. Cabin counselors play a vital role in helping campers settle into their cabins, plan fun get-to-know-you games, and provide extra support for those who need it.
In addition to cabin life, campers can also forge lasting friendships through their participation in Kamaji tribes. These tribes offer an incredible opportunity for campers to bond with girls of various ages and cabins, further enhancing the sense of belonging and connection within the Kamaji community.
3 – Exciting Adventures
Adventure forms the core of the Camp Kamaji experience! Campers can embark on thrilling overnight camping trips, invigorating canoeing adventures, and stimulating kayaking expeditions. These wilderness trips offer a unique opportunity to explore nature, uncover hidden talents, and build meaningful relationships with cabinmates while cooking over a campfire.
Safety is a top priority on these adventures, and campers are well-equipped with essentials like sleeping bags and flashlights to ensure a comfortable and enjoyable experience. Under the guidance of trained Wilderness Trip Leaders, campers can immerse themselves in the great outdoors and create memories that will last a lifetime.
From the exhilaration of rock climbing to the serenity of horseback riding through the forest, Camp Kamaji offers a wide range of exciting adventures that cater to every camper's interests and abilities. So, whether you're an outdoor enthusiast or a first-time adventurer, there's something for everyone at Camp Kamaji!
The Kamaji Community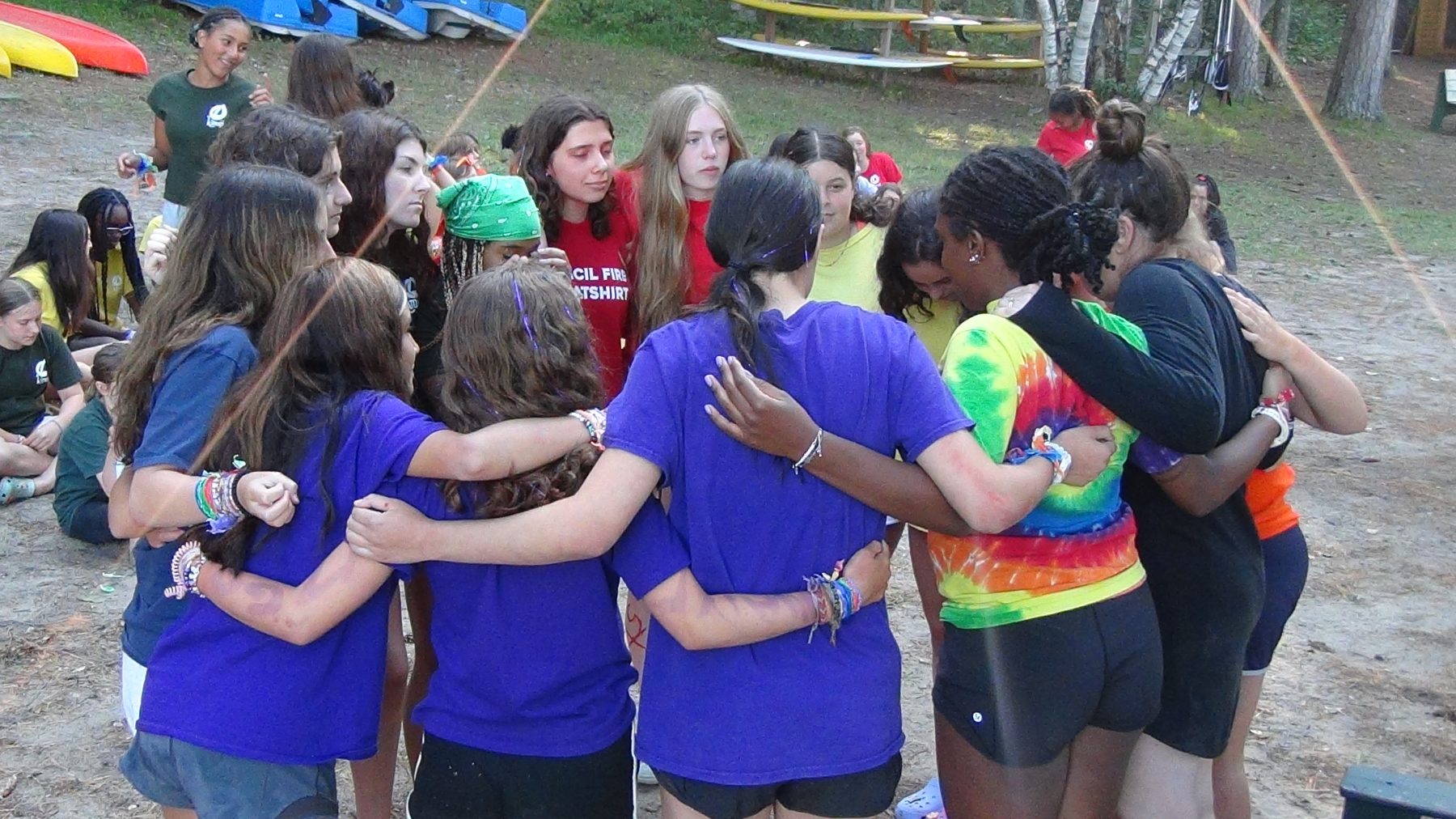 Camp Kamaji thrives on a robust sense of community anchored by supportive staff, enduring connections, and shared values. The Kamaji team, consisting of cabin counselors, on-site licensed medical professionals, and activity program specialists, work tirelessly to create a nurturing environment where campers can thrive.
Campers also have the opportunity to join one of six Kamaji tribes, each with its unique history and legacy spanning over 100 years. The tribes foster strong friendships and loyalty among their members, connecting campers to a rich and vibrant history. Campers come back to the same tribe year after year to build long-term relationships and bonds with other tribe members of all ages. It is a wonderful opportunity for the oldest campers to be leaders and role models and younger campers to be inspired and grow their own sense of importance.
The Kamaji community is a truly special place where campers can feel a sense of belonging and support.
4 – Supportive Staff
Camp Kamaji's staff, led by the directors of Kamaji, is truly remarkable, with impressive qualifications and a genuine dedication to providing a nurturing environment for campers. They undergo extensive training, including wilderness trip leader training, leadership training, and certifications in water sports and activities, to ensure they are well-prepared for their positions and can create an enjoyable and secure environment for campers.
Safety and well-being are top priorities at Camp Kamaji, with staff members adhering to strict safety rules and guidelines while maintaining a supportive and inclusive atmosphere. The camper to staff ratio is an exciting 1:4, ensuring that each camper receives individualized attention and guidance throughout their time at camp.
5 – Lifelong Connections
Forming lifelong connections at Camp Kamaji is a truly priceless experience. The bonds forged between campers and staff not only create lasting memories but also provide a strong support network for personal growth and development.
Cabinmates (campers their safe age) and tribe members (campers of all ages and cabins) form the foundation of these lifelong connections, as they share experiences, work together, and grow up together throughout their time at Camp Kamaji. The sense of belonging and camaraderie that arises from these relationships is an invaluable part of the Camp Kamaji experience, enriching the lives of everyone who has the privilege of calling Kamaji their summer home.
6 – Shared Values
Camp Kamaji's community is built on a foundation of shared values, including:
Respect
Honesty
Responsibility
Trust
These values create an atmosphere of joy, friendliness, and inclusivity, where campers and staff from all over the United States (and the world!) can come together and form meaningful connections.
By embracing these shared values, campers learn to:
be strong
be independent
take risks
develop a true sense of self
The sense of community at Camp Kamaji is truly remarkable, providing a supportive environment that nurtures the growth and development of each and every camper.
Unplugging and Reconnecting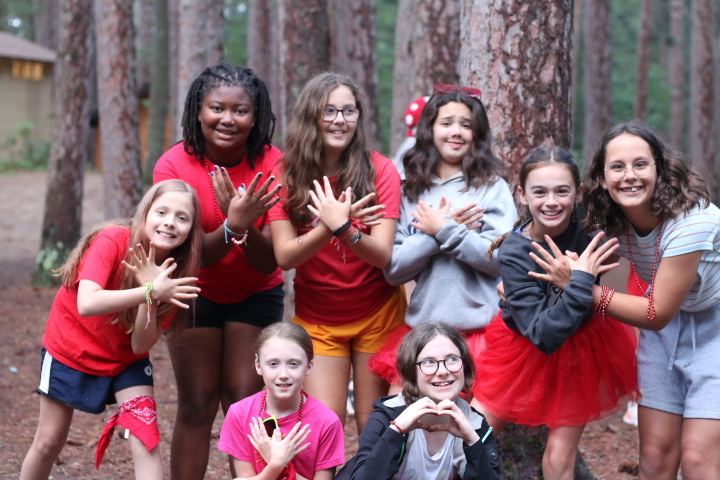 In today's fast-paced, technology-driven world, it can be challenging to find the time and space to truly unplug and reconnect with ourselves and others. Camp Kamaji offers the perfect opportunity to do just that – by immersing campers in nature and providing a technology-free environment, they can focus on:
Developing genuine connections with their peers
Engaging in outdoor activities
Learning new skills
Building self-confidence and independence
Camp Kamaji provides a supportive and nurturing community where campers can grow and thrive. Kamaji is a back-to-basics experience with down-to-earth kids.
This unique experience allows campers to engage in face-to-face interactions, practice mindfulness and reflection, and develop a deeper appreciation for the world around them. It's a refreshing and transformative experience that helps campers grow in ways they never imagined possible.
7 – Nature Immersion

The overall Camp Kamaji experience is significantly enriched by immersion in nature. By providing campers with meaningful and enjoyable outdoor experiences, they can develop a deeper connection with nature and gain a greater appreciation for the beauty of the outdoors.
Campers have the opportunity to participate in a variety of outdoor activities, including:
Camping
Canoeing
Kayaking
Hiking
Horseback riding
Rock climbing
Through these experiences, they can disconnect from their daily lives and spend time immersing themselves in the serenity and wonder of the natural world.
8 – Face-to-Face Interactions
Camp Kamaji's technology-free environment promotes face-to-face interactions, allowing campers to:
Develop genuine connections and communication skills without the distractions of screens and devices
Engage with their peers in various activities and programs
Build meaningful relationships
Enhance their communication and social skills
Create lasting memories
The emphasis on face-to-face interactions helps campers develop a stronger sense of empathy, understanding, and emotional intelligence, as they learn to navigate the complexities of interpersonal relationships in a supportive and inclusive environment.
9 – Mindfulness and Reflection
At Camp Kamaji, campers are encouraged to practice mindfulness and reflection, allowing them to develop self-awareness and emotional intelligence. Through activities such as:
Mindfulness drawing
Theater games
Meditation
Yoga
Campers can explore their thoughts and feelings, leading to greater self-awareness and teaching campers how to be thoughtful community members.
By cultivating mindfulness and reflection, campers can better understand and regulate their emotions, allowing them to handle life's challenges with grace and compassion. These invaluable skills not only enhance the camp experience but also prepare campers for a lifetime of emotional well-being and resilience.
Empowering Girls
Camp Kamaji is committed to empowering girls by providing a nurturing environment that fosters leadership, skills development, and individuality. By offering a wide range of activities and programs tailored to each camper's unique interests and abilities, Camp Kamaji helps girls reach their full potential and become strong, confident, and independent individuals.
Through their time at Camp Kamaji, girls not only develop valuable life skills but also create lasting connections with their fellow campers and staff, forging a powerful support network that continues to shape their lives long after their camp days have ended.
10 – Leadership Opportunities
Camp Kamaji offers numerous leadership opportunities for girls to develop their skills and take on new responsibilities. One such opportunity is becoming a Wilderness Trip Leader, where campers can participate in trips of two to eight days, engaging in activities like wilderness camping, orienteering, canoeing, and kayaking.
Additionally, campers can take on leadership roles within their tribes, providing older girls with a chance to shine and younger girls with a supportive 'big sister' figure. Camp Kamaji also offers a Leadership Training Program that further enhances these skills through mentorship and hands-on work at camp.
These leadership opportunities not only empower girls to take charge and develop their abilities but also foster a sense of responsibility and ownership over their camp experience, creating confident and capable leaders for the future.
11 – Skill Development
Skill development is a crucial aspect of the Camp Kamaji experience, encompassing a wide range of activities that cater to each camper's interests and abilities. Some of the activities offered at Camp Kamaji include:
Swimming
Sailing
Tennis
Dance
Waterskiing
Campers can explore new passions and hone their skills in a supportive and engaging environment at the summer camp health center while having the opportunity to meet new people.
The emphasis on skill development ensures that campers leave Camp Kamaji as well-rounded individuals, equipped with the knowledge, confidence, and resilience needed to navigate life's challenges. By fostering independence, creativity, and teamwork, Camp Kamaji helps girls reach their fullest potential and achieve their dreams.
12 – Promoting Individuality
Embracing individuality is a core value at Camp Kamaji, where girls are encouraged to express their unique qualities and interests free from societal pressures. The camp provides a safe and supportive environment where campers can be their authentic selves, fostering independence and autonomy.
Camp Kamaji's focus on promoting individuality ensures that campers develop a strong sense of self and a genuine appreciation for their own strengths and abilities. By valuing and celebrating each camper's uniqueness, Camp Kamaji cultivates an inclusive community where everyone is empowered to be their best selves.
Memorable All-Camp Programs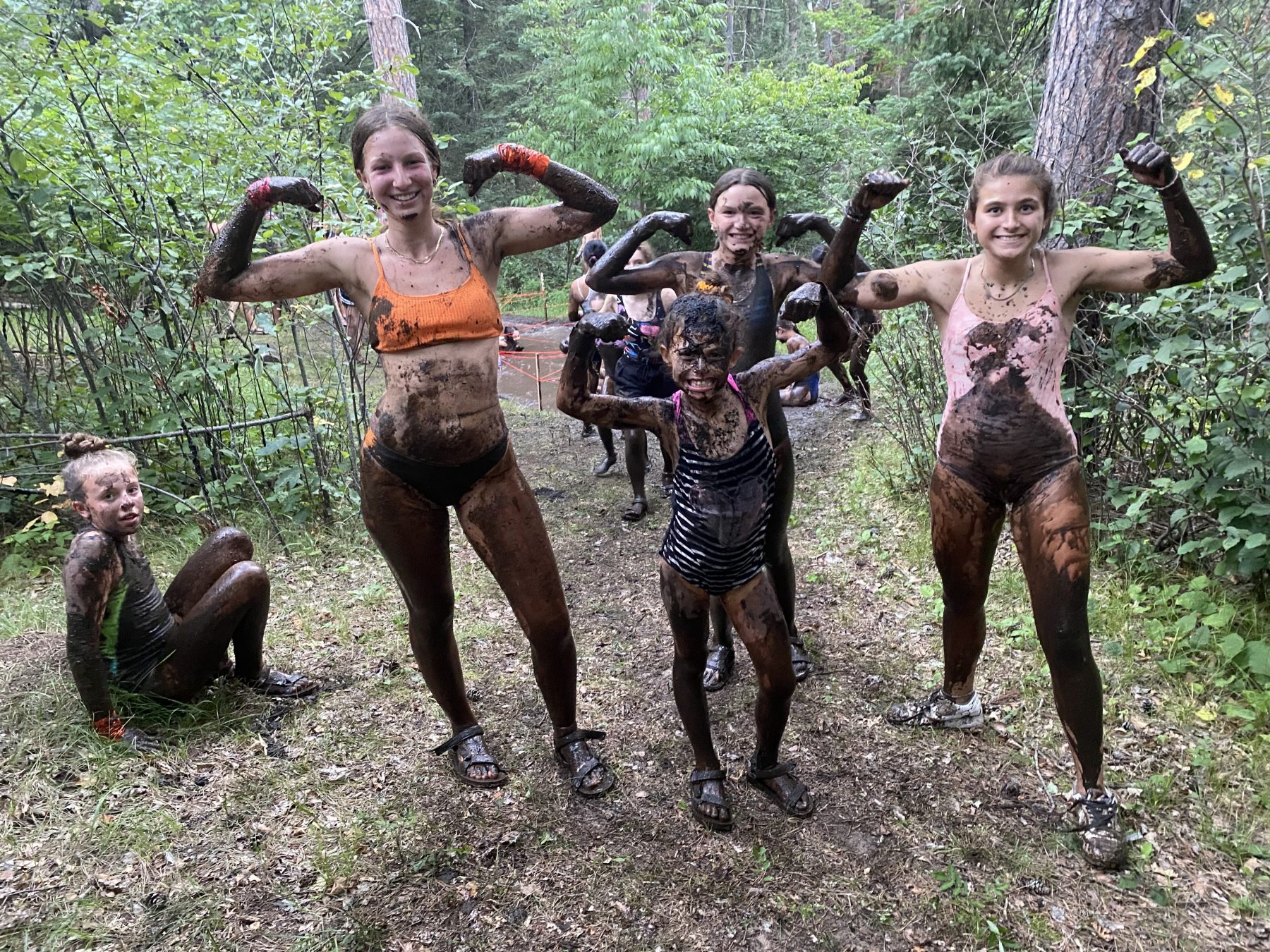 Additionally, Camp Kamaji organizes memorable all-camp programs that unite the entire camp community. These programs include themed events, group games and sports, and special traditions that create lasting memories and foster a strong sense of camaraderie among campers and staff alike.
Whether it's the exhilaration of a Mud Run or the excitement of a Capture the Flag game, these all-camp programs provide the perfect opportunity for campers to connect with others they haven't met before and bond over shared experiences. These memorable events truly capture the spirit of Camp Kamaji and create a lasting impression on all who attend.
13 – Themed Events
Camp Kamaji's themed events are a lively and engaging avenue for campers to partake in activities promoting creativity, teamwork, and memory-making. From the dazzling 4th of July Glow Party to the joyful colors of the Color Run, themed events encourage campers to work together and embrace their playful side.
These events provide a unique opportunity for campers to step out of their comfort zone, try new things, and form lasting connections with their fellow campers. The sense of excitement and camaraderie that arises from these themed events makes them an unforgettable highlight of the Camp Kamaji experience.
Bonus- Special Traditions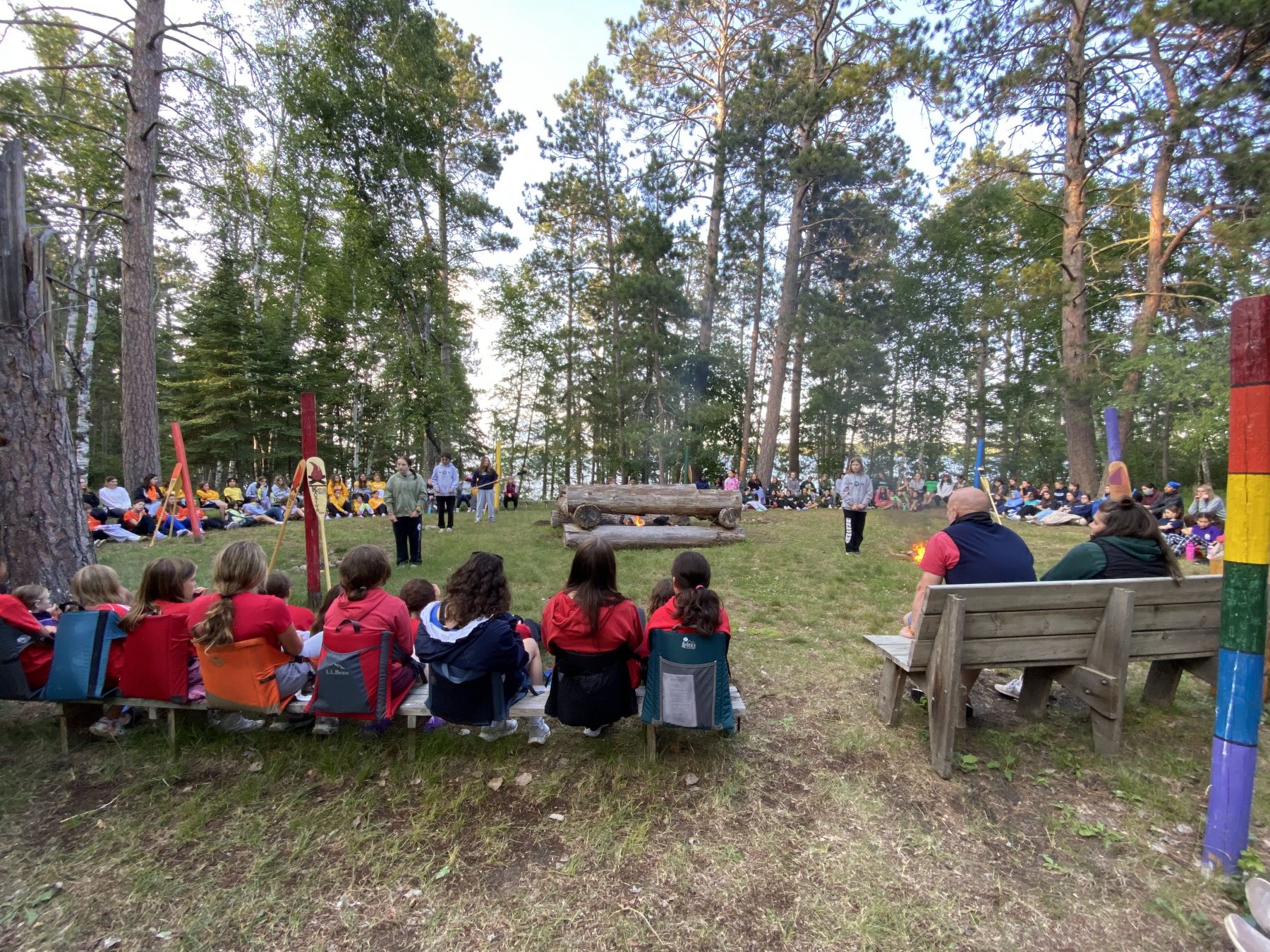 Camp Kamaji is steeped in special traditions that create a strong sense of belonging and connection among campers. From tribe philanthropic projects to weekly campfire gatherings, these traditions offer campers the opportunity to bond over shared experiences, strengthen their community, and create lasting memories.
By participating in these special traditions, campers become part of a vibrant and supportive community that spans generations of Camp Kamaji alumni. The sense of continuity and connection that arises from these traditions is a testament to the enduring impact of the Camp Kamaji experience on the lives of its campers.
Summary
From personal growth and new friendships to empowering girls and creating lasting memories, Camp Kamaji offers a truly transformative experience for all who attend. With its supportive staff, welcoming community, and wide range of activities, campers are given the opportunity to embrace their individuality, develop essential life skills, and forge lifelong connections.
As you embark on your journey to Camp Kamaji, remember that the possibilities are endless and the memories are unforgettable. So, pack your bags, leave your worries behind, and prepare to experience the magic of Camp Kamaji, a place where girls are empowered to become their best selves and create a lifetime of cherished memories.
Frequently Asked Questions
How long are the sessions at Camp Kamaji?
Camp Kamaji offers 4 or 8-week sessions, giving campers an amazing opportunity to create long-lasting memories spent at Kamaji in Minnesota!
What age range does Camp Kamaji cater to?
Camp Kamaji offers programs for girls aged 7 to 15, allowing them to make life-long memories as they return to our Minnesota summer camp year after year. At 16 years old, campers are eligible to participate in Kamaji's Leadership Training Program where girls hone their "soft skills" to prepare for their futures.
Can campers with dietary restrictions be accommodated at Camp Kamaji?
Yes, Camp Kamaji can accommodate campers with dietary restrictions as they work closely with families to ensure every camper's needs are met. Check out our sample camp menu.
Are there any prerequisites for participating in certain activities at Camp Kamaji?
At Camp Kamaji, the staff is dedicated to providing campers with access to all activities they would like to participate in, including wilderness trips, swimming, horseback riding, waterskiing and much more. Book a call with Kat (co-owner and director) to ask all or your Camp Kamaji questions and find out if Kamaji is a fit for your camper this summer.