Immerse your child in an "unplugged" yet connected world of unforgettable experiences and friendships at an All Girls Summer Camp in Minnesota. Focusing on personal growth, adventure, and camaraderie, camps like Camp Kamaji provide a nurturing environment for young girls to thrive and create lasting memories. Discover the unique benefits of attending an All Girls Summer Camp in Minnesota as we explore the top camp in the state.
Key Takeaways
Explore all-girls summer camps in Minnesota for an empowering environment and lasting friendships.
Develop essential life skills, challenge yourself, and build confidence in a child-focused place.
Create unforgettable memories through unique activities and opportunities tailored to each camper's interests & abilities.
Discovering All-Girls Summer Camps in Minnesota
Minnesota houses some top-rated all-girls overnight summer camps like Camp Kamaji. What sets this camp apart? Their uniqueness lies in the down-to-earth experiences they offer, the indelible memories they help create, and the enduring friendships that flourish among the campers. Camp Kamaji provides a safe and exciting environment where girls can explore new activities, be silly and goofy, and develop a true sense of self.
Camp Kamaji is teeming with fantastic facilities and programs, all geared to deliver an unparalleled summer camp experience. Some of the highlights include:
Renovated cabins and bathrooms
4,000 feet of private lakefront for swimming and boating activities
Arts village
Climbing wall
English Horseback Riding on site
There's no shortage of excitement and adventure for campers of all ages. Camp Kamaji caters to girls ages 7 through 16.
Camp Kamaji
Nestled in the beautiful northern Minnesota landscape, Camp Kamaji is an all-girls camp that celebrates authenticity, encourages camper choice, and offers exciting new experiences and opportunities. With an incredible range of activities such as waterskiing, horseback riding, paddleboarding, archery, wakesurfing, dance, and sailing, girls have the opportunity to learn new skills and have fun in a safe, non-competitive and supportive environment.
The length of sessions allows girls to immerse themselves in the camp experience, gain confidence, and develop independence as they explore new activities, live with peers from all over the world and challenge themselves. Instead of shuttling your daughter from specialty class to day camp to the movies with friends all summer, consider the benefits of a sleepaway camp experience. Camp Kamaji offers two session lengths for campers. The eight-week session is an excellent value at $12,900, while a shorter four-week stay is available for just $7,200.
Embracing Adventure and Growth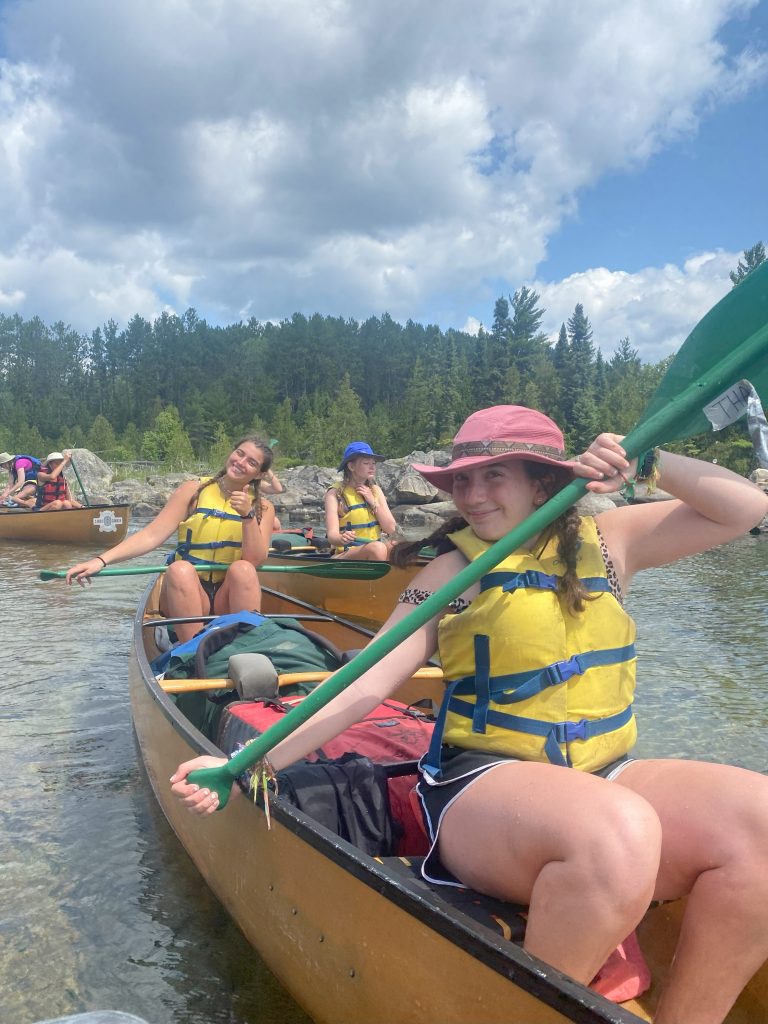 Minnesota's all-girls summer camps emphasize adventure and personal growth, fostering self-confidence, and independence, and cultivating enduring friendships and connections among campers. These camps give girls a unique opportunity to explore their interests, discover new passions, push their limits, and grow as individuals. The great outdoors becomes a playground for personal growth and discovery, as campers learn valuable life skills, challenge themselves, and build lasting friendships in a safe, nurturing environment.
Through a variety of activities and experiences, girls at Camp Kamaji develop essential life skills such as teamwork, problem-solving, empathy, and leadership. From camping trips and expeditions in nature to canoeing and horseback riding, these camps offer a diverse range of opportunities for girls to embrace adventure and personal growth.
Building Confidence and Independence
The environment at an all-girls summer camp aids girls in building confidence and independence through a range of activities and challenges. Some benefits of attending an all-girls summer camp include:
Engaging in exciting activities
Tackling obstacles in a nurturing and compassionate setting
Making new friends from across the country and even the world
Becoming more self-reliant
Discovering a stronger sense of self
Gaining new knowledge, aids in boosting their self-confidence.
A necessary "brain break" from devices and screens.
Campers receive encouragement to venture beyond their comfort zones, make choices about their day to day, and embrace new challenges. By nurturing independence, girls gain invaluable life skills and cultivate a sense of empowerment that can have a profoundly positive effect on their personal growth and future endeavors whether it be trying out for a new activity at school and eventually feeling confident enough to go to college and live away from her parents.
Fostering Friendships and Connections
Camps create a supportive environment for girls to form lasting friendships and connections with their peers. Through a variety of fun group activities, engaging social skills activities, and interactive activities, campers have the opportunity to meet and form bonds with other girls who share similar interests and experiences of all different ages. Camp Kamaji is known as a camp for "nice girls". Kamaji has a variety of mixed-aged programming that allows campers to know campers throughout all of camp and fosters a feeling of community and kindness. The friendships often extend beyond the duration of the summer camp, leaving a lasting imprint on a child's life and a strong foundation as they grow up.
All-girls summer camps in Minnesota provide:
An opportunity for campers to be their true, authentic selves
A respite from social pressures and social media
Formation of meaningful connections without distractions
Opportunities to be silly and a place for "kids to be kids"
Unforgettable memories that girls will cherish for the rest of their lives.
Activities Offered at All-Girls Summer Camps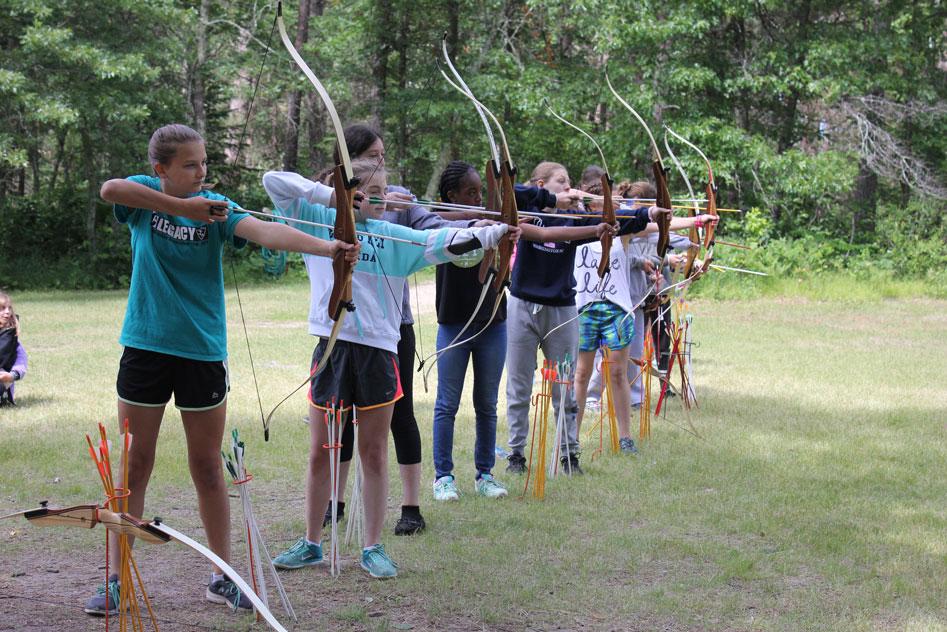 From aquatic adventures, and land activities to creative endeavors, Minnesota summer camps offer a vast array of all-girls activities for the campers to revel in and explore. Each camp is carefully designed to cater to the interests and abilities of its campers, providing a truly unique and unforgettable summer experience.
Water Activities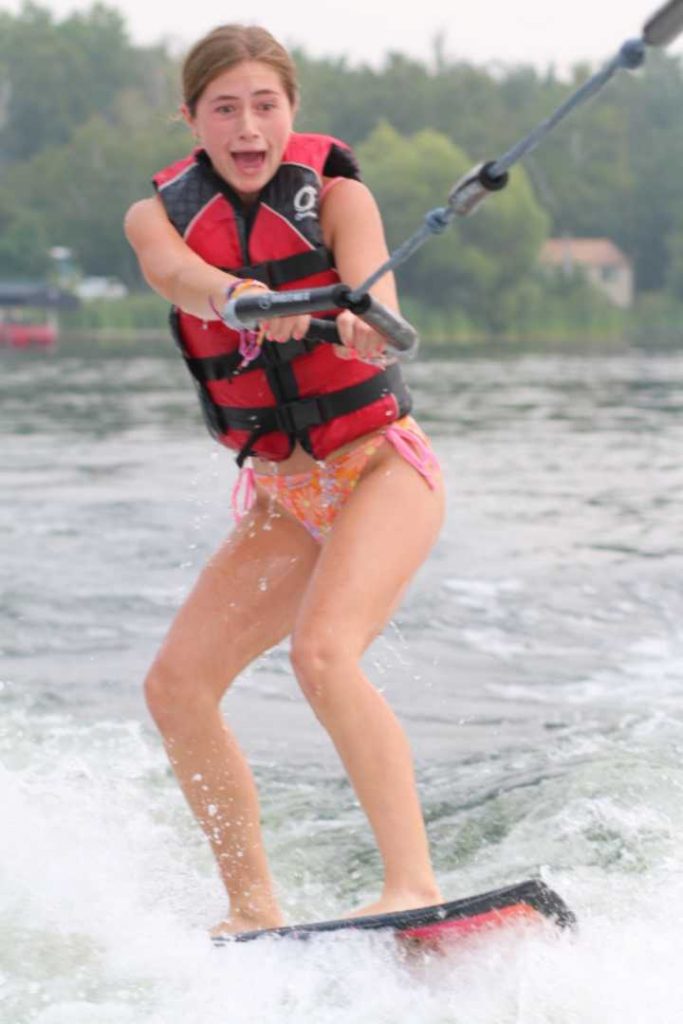 Water activities play a prominent role in the summer camp experience, with campers engaging in activities like swimming, sailing, kayaking, wakeboarding, and canoeing. Not only do these activities offer an enjoyable and exciting avenue for girls to remain active and cool during the summer, they help campers develop concrete skills and they also impart crucial water safety skills.
Instructors are certified lifeguards and present during swimming and all water activities, counselors actively supervise campers while in and around the lake. Personal flotation devices (PFDs) are provided and must be worn during boating activities. These safety measures ensure a fun and safe experience for all campers as they take advantage of the variety water activities. Camp Kamaji is an American Camp Association Accredited camp (acacamps.org) and far exceeds the safety guidelines advised.
Land Activities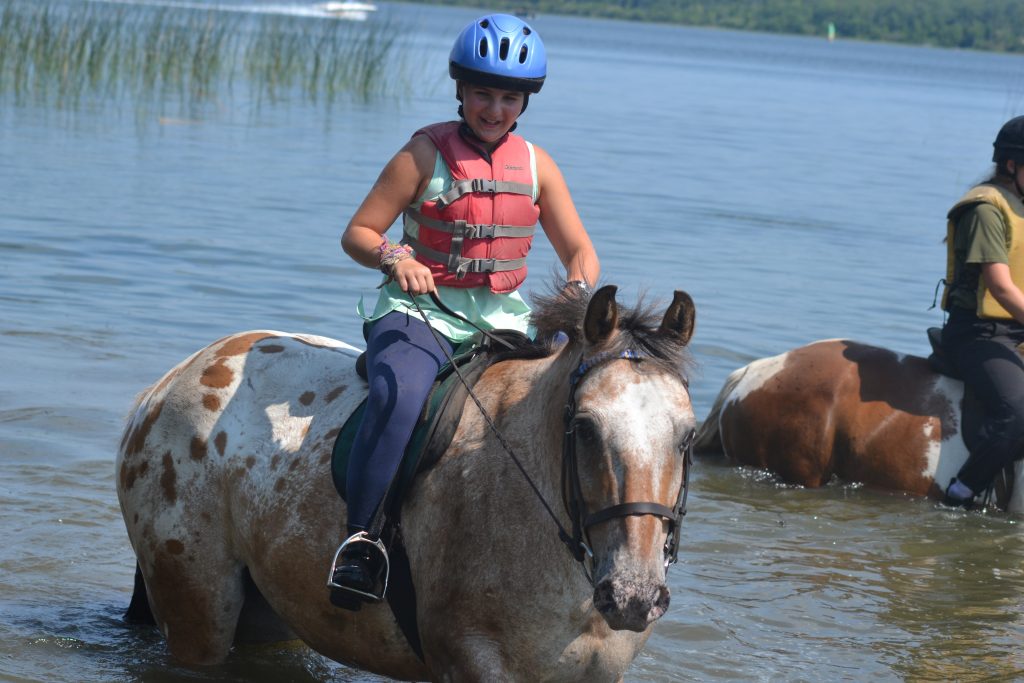 Land activities at all-girls summer camps are varied and captivating, encompassing everything from:
Hiking
Horseback riding
Tennis
Dance
At Camp Kamaji, campers can develop new skills, challenge themselves physically and mentally, and foster teamwork and camaraderie with their fellow campers, which is exactly what Camp Kamaji prides itself on.
Through activities such as:
Archery
Arts activities
Drama/Theater
Canoeing
Kayaking
Low ropes course
Outdoor camping skills
Rock climbing wall
Fitness
Girls can explore their interests, identify their strengths, and choose the activities they want to participate in each week. This helps in bolstering their confidence and cultivating a strong sense of self.
Creative Pursuits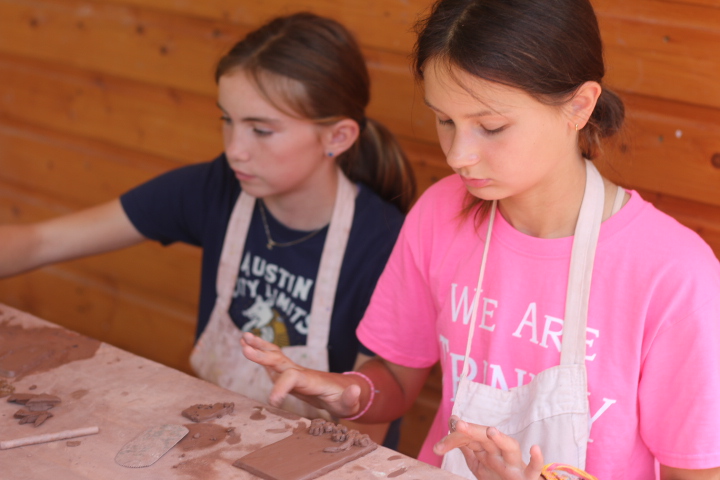 Creative pursuits at all-girls summer camps include engaging activities such as:
Pottery
Painting
Jewelry crafting
Portraits
Stage Makeup
Photography
Tie-dying
These activities, often found in day camps, provide an outlet for campers to express themselves artistically and cultivate their creativity.
In addition to arts and crafts, camps offer theater, dance, and music programs for campers to explore. These creative pursuits not only foster artistic expression and self-discovery but also help develop essential life skills such as teamwork, communication, and problem-solving. Attending a summer camp, like Kamaji, which has a variety of these activities (instead of just featuring one "specialty") allows girls to pursue the interests they already have and do well, and to discover new passions and develop more well-roundedness.
Choosing the "Right" All-Girls Summer Camp
In choosing the ideal all-girls summer camp for your child, factors such as:
Her Age
Camp duration
Session options
Budget
Experience of camp directors and leadership
…should be taken into consideration. By taking these factors into account, you can ensure that the camp you choose is the perfect fit for your family and provides your child with an unforgettable summer camp experience.
Age Group Considerations

Considering the age group when choosing a summer camp for girls can be incredibly beneficial as it allows the activities, curriculum, and social dynamics to be tailored to their specific developmental stage. It is important to discuss a child's readiness with the camp director. Different ages have unique interests, abilities, and maturity levels, so selecting a camp whose directors and program can cater to their age group can highly enhance their overall camp experience and promote their personal growth and development in an exciting way.
For example, Camp Kamaji specializes in girls ages 7 through 16. By choosing a camp that is specifically designed for your child's age group, you can ensure that they have the best possible experience and create lasting memories. Kamaji believes in programming that allows girls of all age-groups opportunities across all of camp, none limited by age.
Camp Duration and Session Options
When selecting an all-girls summer camp, camp duration and session options are key factors to bear in mind. These options allow you to choose the best fit for your family's schedule and your child's preferences. For example, Camp Kamaji offers exciting four-week and eight-week sessions for girls aged 7 to 16.
By selecting the appropriate camp duration and session options, you can ensure that your child has a fulfilling and unforgettable summer camp experience that complements your family's schedule and preferences.
Budget
Budget and financial assistance options can aid in making the camp more cost-effective for families. Some financial assistance options available for all-girls summer camps in Minnesota include:
Scholarships or grants offered by the camp or external organizations
Sliding scale fees based on income
Payment plans to spread out the cost of camp
Fundraising opportunities to help offset the cost
These options can help make camp more accessible for families with different financial situations.
For example, Camp Kamaji partners with Camp For All Kids to provide financial assistance for attendees. By exploring budget and financial assistance options, you can ensure that your child has the opportunity to attend an all-girls summer camp and create lasting memories.
Experienced Camp Directors and Leadership

When choosing a summer camp program for your child, it is essential you talk with the Camp Director. Camp Kamaji believes in partnering with parents to provide a safe, fun-filled, impactful summer for girls. Owners/Directors Kat (Martin) and Jason Nelson are parents to their own three young children and have been running Kamaji together since 2013.
Prior to becoming owners together, Kat was a camper, counselor then year-round Associate Director for 10 years. Kat and Jason eat meals with the campers, attend the Evening Programs and directly oversee the Health Center, activities, the Overnight Camping Trip Program and the staff. Kat is often described as campers' "camp mom" and understands the importance of developing a open, honest line of communication and partnership with parents and their campers.
The Benefits of Attending an All-Girls Summer Camp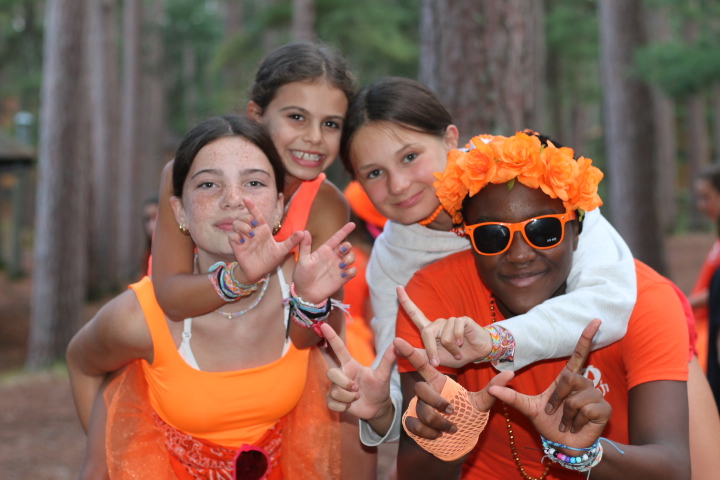 Numerous benefits come with attending an all-girls summer camp, including the development of life skills, forging unforgettable memories, and providing a safe, nurturing environment for girls to discover and grow. Through a variety of activities and experiences, campers can develop essential life skills, challenge themselves, and build lasting friendships.
Building Life Skills
Campers at all-girls summer camps in Minnesota develop essential life skills such as:
Leadership
Teamwork
Problem-solving
Communication
By participating in engaging activities, outdoor adventures, and supportive environments away from home, these camps inspire girls to step out of their comfort zones, make decisions, and take on new challenges.
These experiences teach campers to be more self-reliant and independent. They get the chance to delve into their interests, recognize their strengths, and accomplish tasks independently, thereby enhancing their confidence and fostering a robust sense of self.
Creating Unforgettable Memories
Campers at all-girls summer camps in Minnesota forge lasting memories through unique experiences and the friendships they form at camp. From engaging in exciting activities such as water activities, land activities, and creative pursuits, to forming strong bonds with fellow campers, these experiences leave a lasting impact on a child's life. Four to eight weeks in nature, away from phones, ipads and social media allows girls to unplug and get back to basics, creating the type of childhood memories we can recall from our own days.
These unforgettable memories provide a sense of accomplishment and joy and contribute to each camper's personal growth and development. The friendships and connections formed at camp often last well beyond the summer camp experience, providing a support system throughout the years and fostering a lifelong love for the great outdoors.
Summary
All-girls summer camps in Minnesota, such as Camp Kamaji offer unforgettable experiences that foster personal growth, build life skills, and create lasting memories. With a wide range of exciting activities, supportive environments, and unique opportunities for adventure and exploration, these camps provide the perfect setting for young girls to thrive and develop. Choose the right all-girls summer camp for your child and give them the gift of a lifetime of cherished memories and friendships.
Frequently Asked Questions
What is the best age to go to summer camp?
8 to 10 years old is the ideal age to start summer camp as it is the right time for a child's development, but depending on their maturity, readiness and personality it can also be done as young as 7 or as old as 15.
What age groups can attend all-girls summer camps in Minnesota?
Girls aged 7 to 17 can enjoy the fun and educational experiences of all-girls summer camps in Minnesota.
Why would I send my daughter to camp for 4 or 8 weeks?
Camps with longer sessions, like Kamaji, allow campers a chance to have a few transition and adjustment days AND THEN develop a routine and a sense of ownership of the experience. Campers learn to live together with people whom they adore and how to exist around others who are "not their cup of tea".
Campers try a variety of different activities and then have the opportunity to practice then master certain skills and walk away from their experience having a concrete, new skill set. The length of the session allows girls to take advantage of all the fun and silly all-camp programs like a Color Run, Mud Run or Sponge Wars and make connections with other campers and counselors from all over the world.
An extended and immersive experience of summer camp allows campers to truly take advantage of all the benefits of a sleepaway camp experience while also discovering their true sense of self.